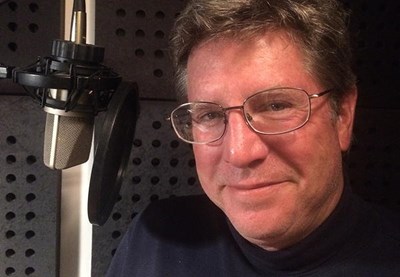 I was out to dinner at an Italian restaurant eating spaghetti when my phone dinged. It was a note from Grover Gardner from Blackstone Audiobooks. He wrote that he read my book, Norman Rockwell's Models, In and Out of the Studio. He explained that he was an art history fan, and asked if he could narrate my book. He said, "But I will understand if you don't want me to read it."
I nearly rifled off an affirmative reply, but told myself to "sleep on it." I looked up this guy Gardner online and thought "wow." Gardner was named a Publisher's Weekly Audiobook Narrator of the Year. He was also awarded the distinction, "One of the Top 100 Narrators of the Century" by AudioFile Magazine.
The next day I didn't hesitate. "I would love for you to narrate Norman Rockwell's Models."
What a stroke of good fortune. I did work hard on the book for four years and on social media promo, as my publisher required. What one hopes and foresees happening often doesn't. What one doesn't foresee sometimes does. I never foresaw this.
Grover later wrote to me, "I thoroughly enjoyed narrating your book. I knew Rockwell used locals and friends as models but never realized the extent to which these relationships influenced his life and work. After reading this, it's hard to look at those iconic Rockwell paintings the same way! They seem less like illustrations and more like chronicles of a charming slice of mid-20th century New England."
I wanted to learn more about Grover. After graduating from Rollins College as a theater major, he became an actor for the Wooly Mammoth Theater Club in Washington, DC. He won a number of lead actor awards, such as for Rocky Horror Show and Metamorphosis. At that time he also began taping books for Library of Congress' Books for the Blind Program. This lead to him setting up his own studio and reading books for such publishers as Random House's Books On Tape.
In 2007, he moved to Ashland, Oregon, and now is a senior engineer for Blackstone Audio. He has continued narrating. Since then, he has read audiobooks for publishers like MacMillan and Random House, including the novelized Star Wars: The Phantom Menace. He has also narrated books of Stephen King, Ron Chernov, Mark Twain and many others.
Grover enjoys narrative history, biography and theology. He especially likes modern American History, but also European and World History.
The New York Times has called him "a wry narrator with a mellow, regular-guy voice who "is remarkably companionable and conveying he's enjoying the book as much as you are."
What's it like being a narrator? He told AudioFile, "When I step into the booth at 10:00 a.m., I have to step into my narrator personae…I'm not Grover Gardner. I'm the narrator.
Another critic described his voice as "sandpaper and velvet."
Like any profession, narrating has its own set of challenges. Sometimes books are so long and boring that he can't bear the thought of reading them. Sometimes they require extensive editing that he would have to do. Other times, a writer has an agenda that he doesn't wish to promote.
It can also have embarrassing moments, caused by a "hot mic." Once while he was narrating a drawn-out history book, he said aloud, "God, I need a break." The statement was never deleted and remained on the audiobook, according to AudioFile's Candace Levy. Grover sometimes has to look up names and places he cannot pronounce.
In a review on the electronic site "reddit," Grover won praise from a grateful, straightforward listener, who spent 47 hours and 47 minutes listening to the audiobook of Stephen King's book, The Stand. "There's no way in hell I would have made it through to the end without his (Grover's) voice."